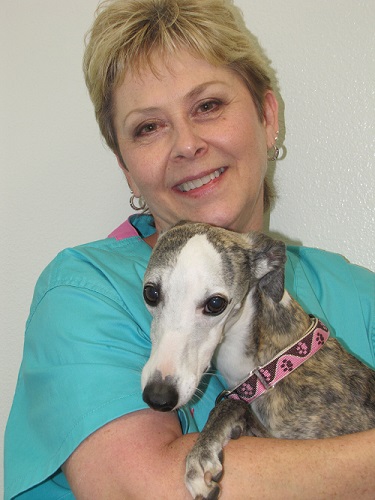 Tammy joined Fruitville Veterinary Clinic in 1999 and is a veterinary technician. Tammy grew up in a small rural town in Indiana. She has always had a soft spot in her heart for animals, especially the strays that "followed her home". Remembering the fear and helpless feelings she had when her pets were ill or injured compels her to provide excellent care to our patients and their owners. Tammy takes joy in being part of sending a once sick puppy home to his anxious family as well as providing comfort to clients who must say goodbye to their old friend. Each and every patient receives her best.
As a veterinary technician Tammy helps Dr. Pepper with appointments, surgeries, procedures and her favorite, dentistry. She loves being able to take care of your pets and help them feel secure and comfortable in the process.
Tammy is thankful for Dr. Pepper's faith in her to bring her best to FVC and thanks her parents for giving her the soft heart to do it with. She loves her job.